WE ARE SO GRATEFUL TO OUR LOYAL CUSTOMERS
see what they say about us
Works easily & efficiently. It just works great & with the inclusive portable heat massage unit, it is even more functional for me!!
— Summer
Think this is a great product and was priced great. We enjoy it very much and it came with features that were not offered on other similar options elsewhere.
— Jewel
"I bought this three weeks ago after my lower back when out and by day two I had little to no pain. I play hockey two to three nights a week and hang before each game and it really make a difference. The heated massage is a great feature!"
Great value over the higher priced machines! Easy to set-up too. I have back relief after the 1st use and now use it twice a day @ 7 min. No more bulging disc or sciatica. My wife had the same results too!
— Mike
Awesome Product. Bought this today, I have chronic sciatica and a herniated disk. This table totally exceeded my expectations and I was blown away after I got off of it the first time!! I was not hurting, of course it came back after a while, but I believe over time this table will give me much needed relief and I am a verified purchaser and this is the first inverted table I have ever bought or used.
— Gary
"Why didn't I get this sooner???"
I have been procrastinating buying one for 6 years, I finally bought this unit yesterday. I absolutely LOVE it! The heated lumber pillow is a little too painful on my back for now, but I'm sure after I get used to using the table I can incorporated the pillow in to my routine. Also I was afraid the foot support bars would hurt the top of my feet, but they don't bother them at all. I highly recommend this unit over the more expensive 'name brand' one. This one does everything and more than its more expensive counterpart.
— Misty
Incredible! Having strained my back (so I thought), back in July 2017 and having excruciating pain in my upper left buttock cheek just from walking, I refused to see a Dr. for fearing the worst. After 3 minutes on the table that nite I was sore, but when I got off, My wife and son said 'OMG YOUR WALKING STRAIGHT!'… Immediately both wanted to try it. My wife was astounded to see my son's back and posture was suddenly straight as a board! Hers felt better almost immediately.
— Randy
"Packaged well with easily followed instructions... Well thought out by manufacturer. Construction appears to be good, quality materials and craftsmanship. "
This piece of equipment is very well built, it came packed very well and I had no problems at all putting it together… It really surprised me how sturdy it is with quality parts… It has helped significantly with my back and hip pain. I would recommend this to anyone for helping with back problems or just stretching out to unwind after a long day on your feet.
— Rhawnievon
Love this!! My last trip to the Dr. they wanted me to go see a surgeon for my neck. This really scared me so I decided to see what else I could do? Between this inversion table, my tens unit and my hot tub my pain is now under control.
— Belinda
This really works! Immediately after using you will feel relief. The product is very well built and easy to install. The massage pad stopped working after a couple of months but it's not too comfortable to use while on the table anyways. Great product otherwise for the price
— Amilcar
"Our backs have thanked us."
My husband and I both use this – he is 6'3″ and I am 5'4″. It is simple to switch back and forth for height and degree of tilting and the heating mechanism is a definite plus. Our backs have thanked us for purchasing it. We are in our 70's and feeling better.'

— Gloria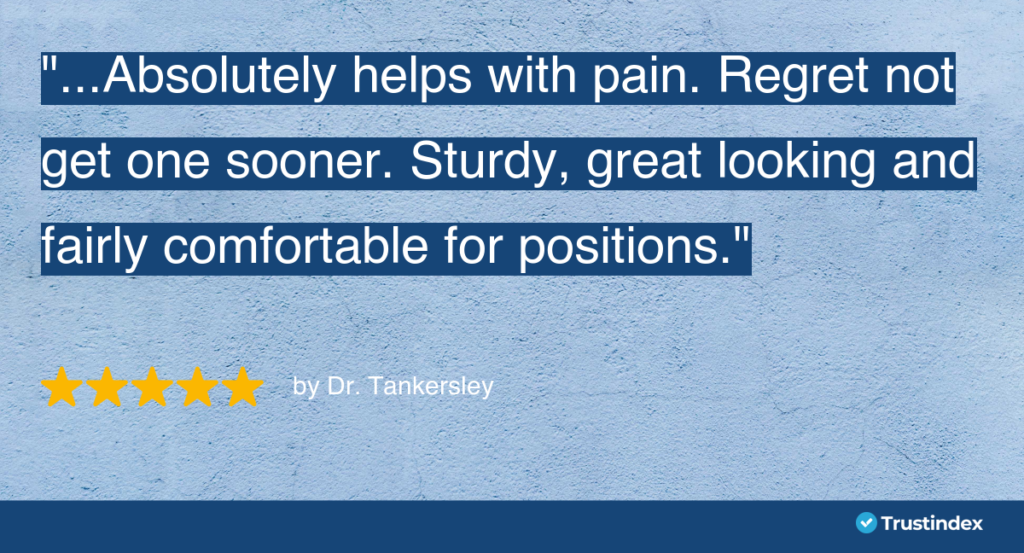 "Surprisingly sturdy and effective for the price. Works as advertised and certainly helped my back pain. Better when used briefly multiple times per day than for one longer period... I would pay the higher $250 for it if I had to all over again."
This product was easy to assemble with the tools provided; It took me less than an hour… I've had back pain for over two years now and have tried physical therapy and steroid injections… I've been using this product for 10 minutes a day for about a month now, continuing PT as well; the back pain has almost gone, and I'm only up to the 40 degree angle!
— John S
"Truly love this product."
This is a comfortable experience. I have had the product for about a month. It is a good stretch and you can feel the decompression. It was easy to assemble… But I truly love this product.
— Margo
"Instantaneous back improvement."
I have to say–instantaneous back improvement. I have slipped discs and 20 years of issues with my back. I had a mild sprain–did 5 minutes at the medium setting–whammo! Instantly no more sprain and I can feel it improving my back. I feel taller, and my body seems more in sync altogether. My back feels better… This is a serious level of improvement–I am telling everyone. Doctors say it does not work–there is a reason–they cannot make money off this…
— Julie
I admit I was skeptical about this table however after owning it for over 3 months and using it weekly it is the best purchase I have ever made for my overall health!! If you have lower back pain I would tell you this table is equivalent to that feeling you get when you crack your knuckles only for your back. What an awesome product.
— Kimberly
"Great product for back problems. Super easy to assemble. Customer service is great if you have questions or missing pieces."
"Amazing piece of equipment."
This is truly an amazing piece of equipment. I would recommend using it if you have back issues it has really helped mine I have several levels abused in my neck and low back and it does help decompress the other desks feels good to stretch. It feels good to stretch. This is definitely worth it. Great value for the price.
— Shaunasev
I bought this for husband. He was complaining his back was always hurting him. I decided to buy him one. He loves it and he said it works. So with that said. I highly recommend it. My back doesn't hurt, but hey I will give it a try.
— E. Kirton
We are so grateful to our loyal customers.
We are constantly working to raise the bar on our products. If you have any questions or concerns about your experience, please let us know.