XL 3.65 HEAT AND MASSAGE INVERSION TABLE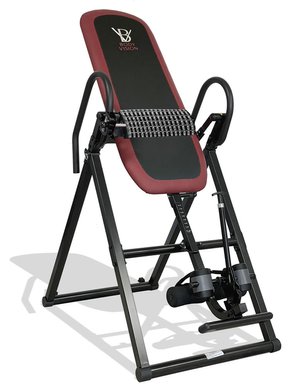 The BodyVision XL 3.65 has support for maximum comfort. Unlike other inversion tables made out of plastic, or thin padding, this model incorporates thick comfortable structured foam, and a durable cover to ensure ultimate comfort. Be on your way to a better back with BodyVision XL 3.65 Inversion Table.
The headrest pad

Soft padded handlebars

Acupressure Beads Lumbar Pad

Comfortable padded backrest

4 position 20, 40, 60, and 90-degree inversion selector pin

Inversion height adjust from 5'1" and 6'6"

Rolling wheels

Comfortable foam ankle rollers

Footrest plate

300lb weight capacity

30 minute or less assembly

Folds for easy storage
Our Inversion Tables are designed to relieve back pressure, elongate the spine, increase blood circulation, reduce negative effects of gravity, promote stretching, improve posture, relieve muscle aches, and relieve stress.
Body Vision - XL 3.65 - Xtra Long, Xtra Wide Inversion Table with Patented Acupressure Back Massage Lumbar Pad, Patented Ankle Safety & Security System, Red
One of the Leading Brands in Inversion Tables
Oversized Back Pad for Added Comfort and Support

Patented Acupressure Lumbar Massage Pad adjusts from lower, to middle, to upper back, shoulders and neck for soothing comfort throughout the entire back region

Easy assembly with built-in rolling wheels not found on many inversion tables;

Relieves Back Pressure & Pain

Dual function ankle rollers and ankle cups for maximum comfort while upside down with patented ankle safety straps

Long Ankle Adjustment Arm for Easy Entry and Exit

Patented Ankle Safety Straps
Designed and Engineered to Relieve Back Pain
This Body Vision Deluxe Inversion Table incorporates a new Patented Acupressure Beads Massage Lumbar Pad that adjusts along the back pad for lower, middle, upper, shoulder and neck muscle relaxation. Rolling Beads create an ultimate muscle massage across a wide area of the back region. An Extra Wide, and Extra Long Back Pad allows for maximum comfort for users 5'1" to 6'6". Unlike other inversion table back rests made out of plastic, this model incorporates comfortable structured foam, and a durable cover to ensure ultimate comfort.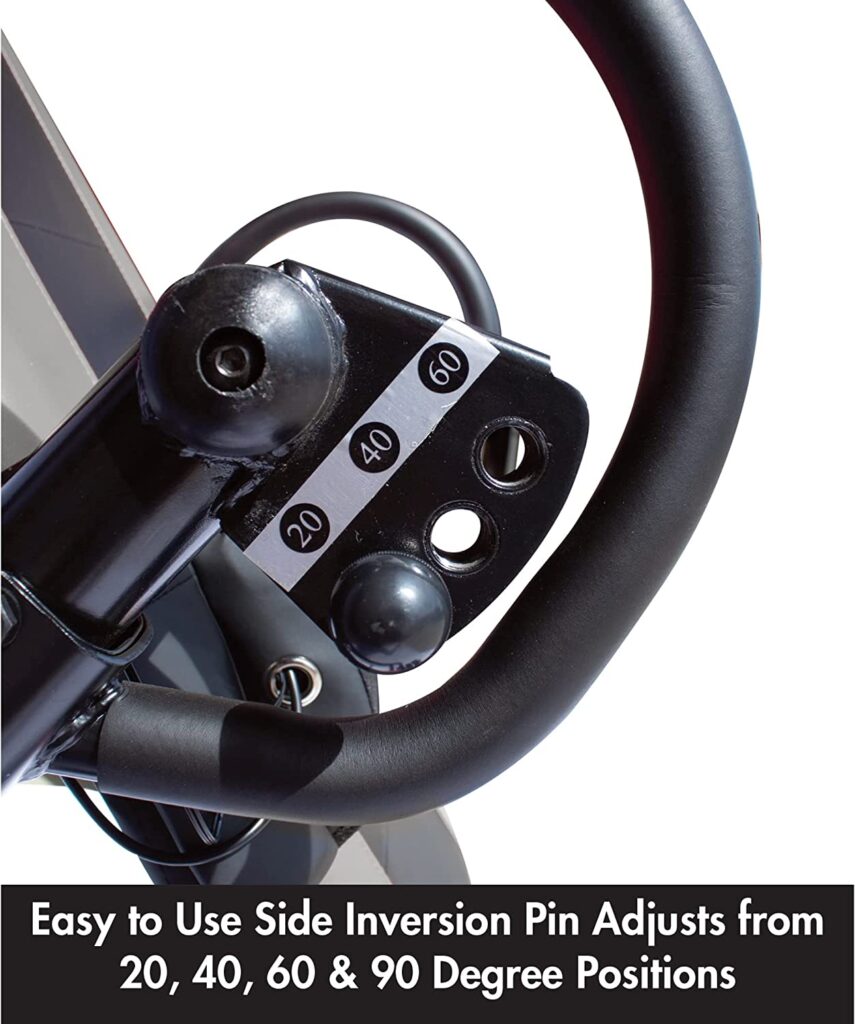 products related to this item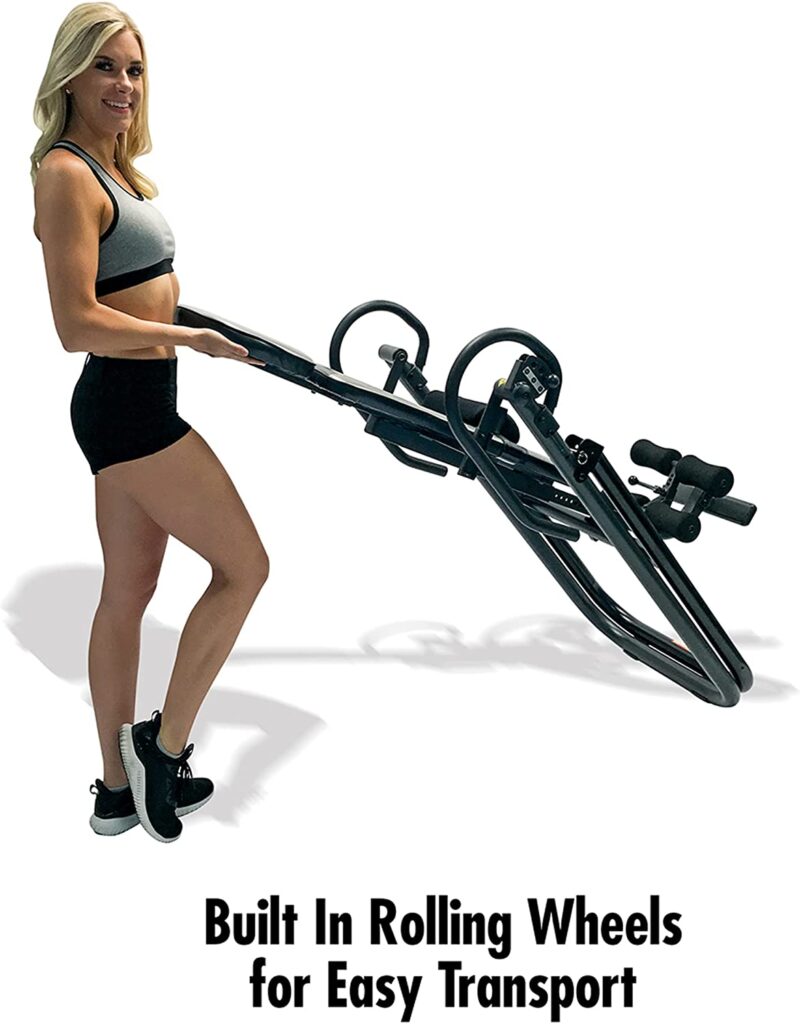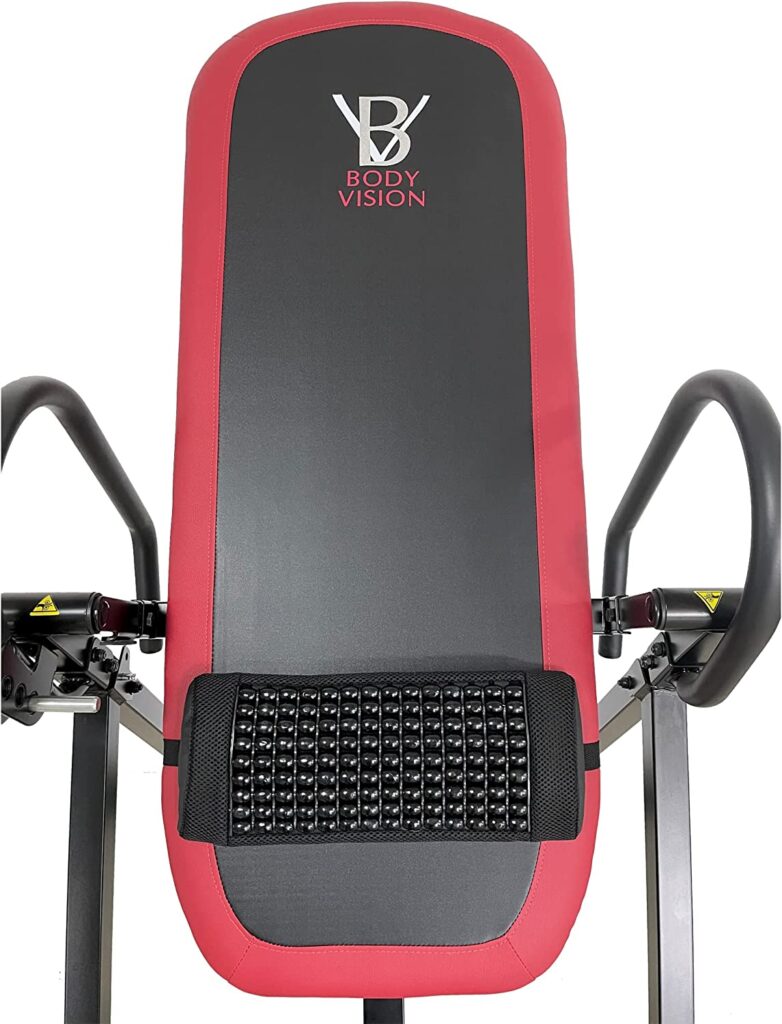 4" OF PLUSH MEMORY-STYLE FOAM
xl 3.65 FEATURES ONE OF THE LARGEST AND MOST COMFORTABLE PADS IN THE INDUSTRY. THE FOAM ERGONOMICALLY DESIGNED BACKREST WITH CONTOUR FIT PAD PROVIDES THE ULTIMATE IN COMFORT AND SUPPORT. THE HEAD REST IS ADJUSTABLE.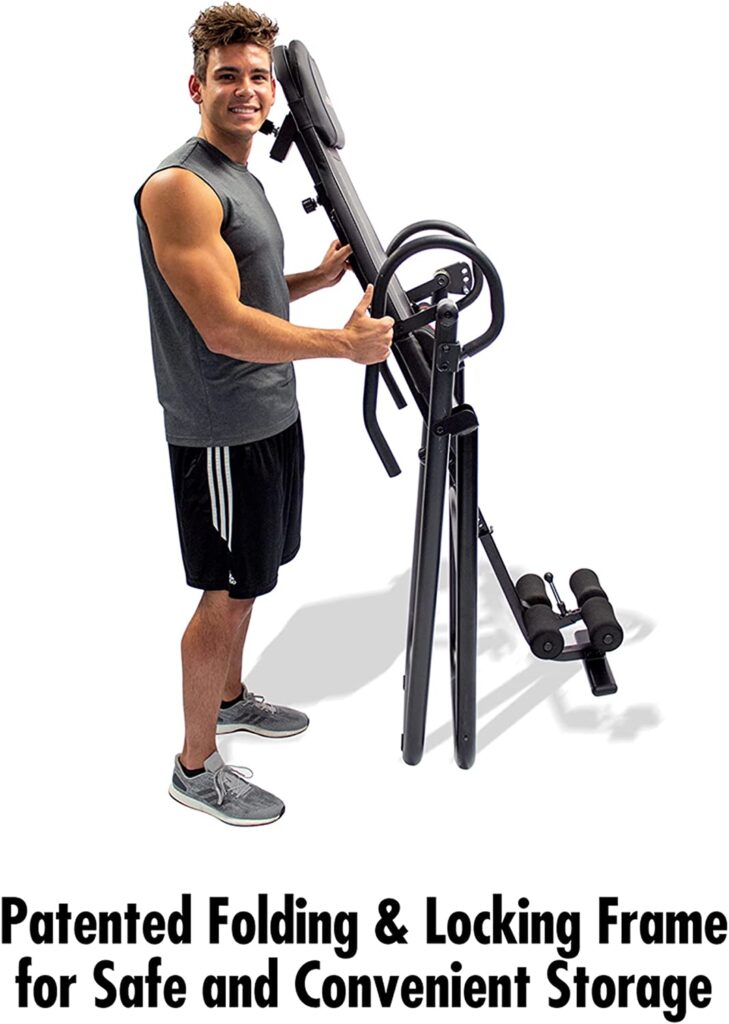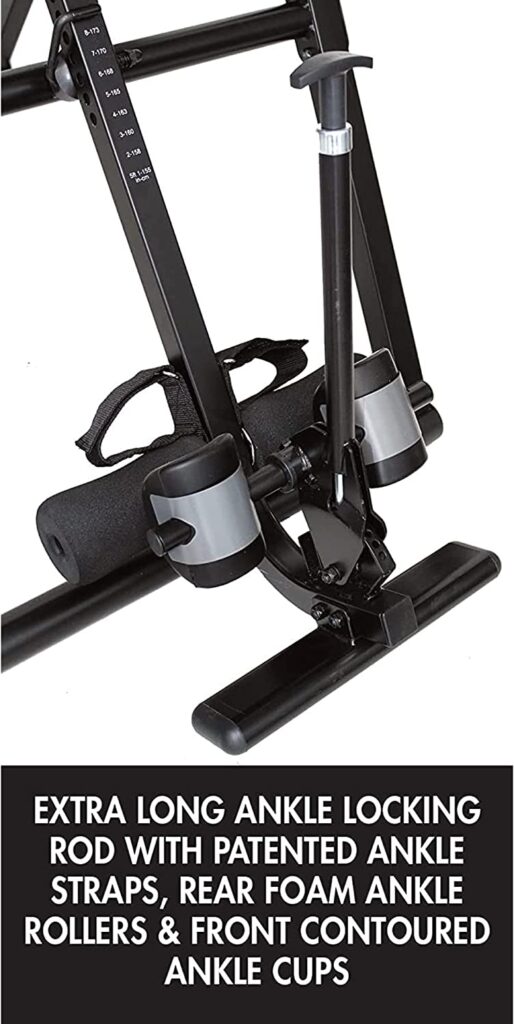 SUR-LOCK EASY IN/OUT ANKLE SUPPORT SYSTEM
EXTRA LONG LOCKING ARM, SO YOU DON'T HAVE TO BEND WHEN ENTERING AND EXITING THE TABLE. OUR ADJUSTABLE, HIGH DENSITY FOAM ROLLERS ARE DESIGNED TO COMFORTABLY SECURE YOUR LEGS WHILE INVERTING. THE OVERSIZED PADDING INSURES THE BACK OF THE CALF WON'T FEEL A HARSH PINCH.
products related to this item
We are constantly working to raise the bar on our products. If you have any questions or concerns about your experience, please let us know.