EXTREME PRODUCTS INVERSION TABLE | BODY VISION ABM 2700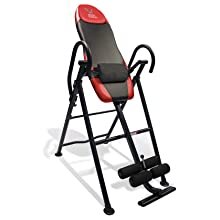 ABM 2370 RED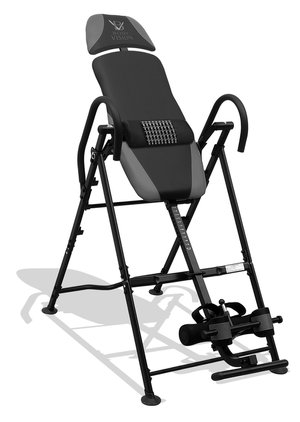 ABM 2370 GRAY
This Body Vision Deluxe Inversion Table incorporates a new Patented Acupressure Beads Massage Lumbar Pad that adjusts along the back pad for lower, middle, upper, shoulder and neck muscle relaxation.  With a Fully Adjustable Head Rest Pad this unit allows for precise head and neck positioning and maximum comfort for users 5'1" to 6'6".  Unlike other inversion tables made out of plastic, this model incorporates comfortable structured foam, and a durable cover to ensure ultimate comfort.
Built-In and Removable Patented Acupressure Beads Lumbar Pad

Adjustable Head Rest Pad

New Patented Ankle Security System includes a Long Extended Ankle Adjustment Locking Device, Rear Foam Rollers, Front Ankle Cups, and Ankle Security Straps for added Safety

Convenient Side Adjustment Pin allows for Uninterrupted Inversion Adjustments from 20, 40, 60 and 90 degree without having to get off the inversion table

Patented Front and Side Frame Locking Systems Allows for Safe and Convenient Storage

Rear Rolling Wheels are built in for easy transport
Relieves Back Pressure and Muscle Aches

Elongates the Spine 

Reverses Negative Effects of Gravity 

Increases Blood Circulation 

Promotes Stretching 

Improves Posture 

Folds for Easy and Convenient Storage 

300Lb. Weight Capacity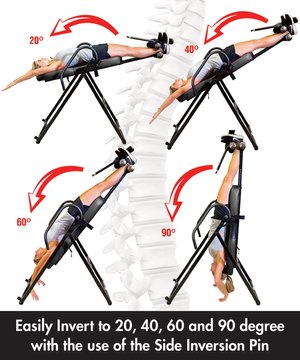 This Inversion Table is tested through Underwriters Laboratories ( UL) and is registered with the FDA as a Class 1 Medical Device.
Always Check with your Physician before starting any Inversion Therapy and review all Safety Warnings listed in the Owner's Manual before each use.
We are constantly working to raise the bar on our products. If you have any questions or concerns about your experience, please let us know. 
Fully adjustable acupressure beads massage pad
Wide Body Pad
Front extension rod for easy access
Foam-padded back rest provides comfort
Front molded ankle cups
Perfect for stretching, relieving back pressure, enhancing circulation and more
Weight capacity of 250lbs