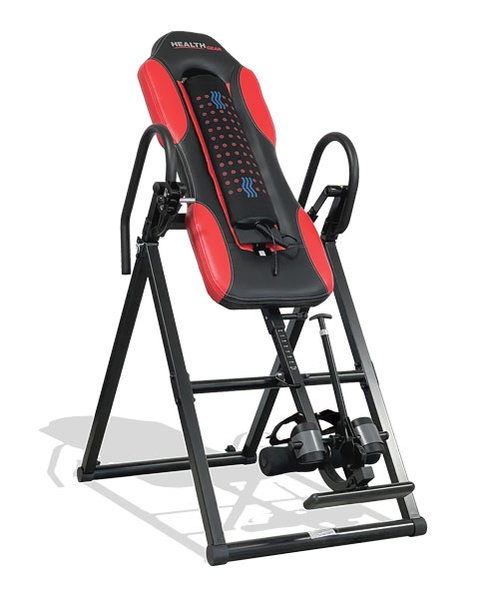 Health Gear sets new standards in Inversion Technology and this model is no exception. Relax the Back with an Extra Long Heat and Vibration Massage Pad that targets the entire back region with soothing  Heat and Vibration Therapy for the Ultimate in back pain recovery. This Pad can also be removed to use in your favorite chair, bed, or even when traveling.  Thick Structured Foam Back Rest Pad provides ultimate comfort while inverting for users 5'1" to 6'6".  Unlike other inversion tables made out of plastic or thin padding,  this model offers a truly noticeable comfort for anyone suffering from back pain.
Built-In and Removable Heat and Vibration Massage Pad

New Patented Ankle Security System includes a Long Extended Ankle Adjustment Locking Device, Rear Foam Rollers, Front Ankle Cups, and Ankle Security Straps for added Safety

Convenient Side Adjustment Pin allows for Uninterrupted Inversion Adjustments from 20, 40, 60, and 90 degrees without having to get off the inversion table

Patented Front and Side Frame Locking Systems, allow for Safe and Convenient Storage

Full-Length Foam Handlebars

Rear Rolling Wheels are built-in for easy transport
BENEFITS OF INVERSION
Relieves Back Pressure and Muscle Aches

Elongates the Spine 

Reverses Negative Effects of Gravity 

Increases Blood Circulation 

Promotes Stretching 

Improves Posture 

Folds and Rolls for Easy and Convenient Storage 

300Lb. Weight Capacity
This Inversion Table is tested through Underwriters Laboratories ( UL) and is registered with the FDA as a Class 1 Medical Device.
Always check with your physician before starting any Inversion Therapy and review all Safety Warnings listed in the Owner's Manual before each use.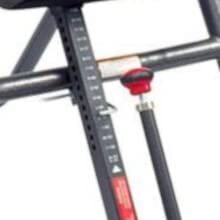 EASY HEIGHT ADJUSTOR
TAILOR THE INVERSION TABLE TO YOUR HEIGHT AND WEIGHT WITH THE EASY TO ADJUST HEIGHT ADJUSTOR ROD.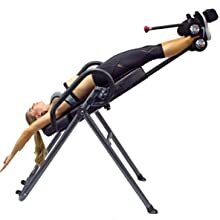 4 POSITION SIDE INVERSION PIN SYSTEM
THE CONVENIENT 4 POSITION SIDE INVERSION PIN, ALLOWS FOR QUICK AND SAFE SELECTION OF EITHER THE 20/40/60/90 DEGREE INVERSION POSITIONS WITHOUT THE USE OF A LOWER STRAP AND WITHOUT HAVING TO EXIT THE UNIT COMPLETELY.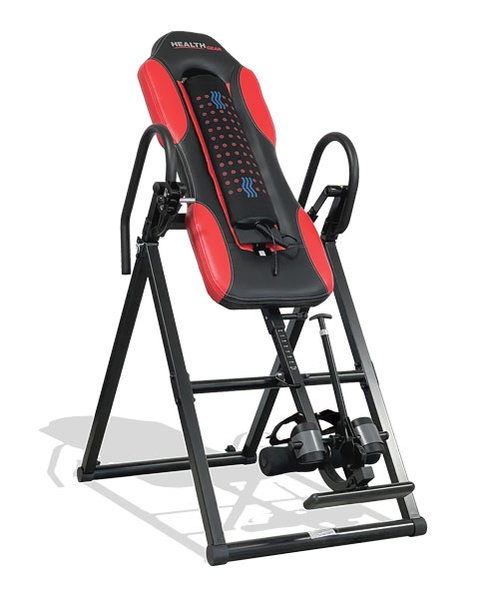 HEAVY DUTY STEEL FRAME CONSTRUCTION
THE 300 LB. CAPACITY INVERSION TABLE ACCOMMODATES USERS FROM 5'1" TO 6'5" AND IS DESIGNED WITH A VERY STABLE HEAVY GAUGE STEEL TUBE FRAME AND FINISHED WITH A SCRATCH RESISTANT POWDER COAT PAINT TO PROVIDE YEARS OF UNINTERRUPTED USE AND RELIEF.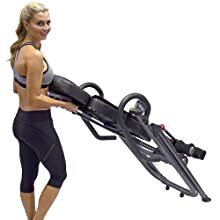 SPACE SAVING DESIGN
ITM 7.0-S HAS A FOLDABLE SPACE SAVING DESIGN WITH BUILT IN TRANSPORT WHEELS FOR CONVENIENT STORAGE AND PORTABILITY.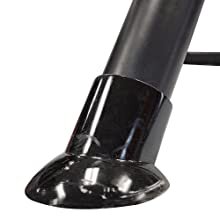 NON-MARRING FLOOR CAPS
NON-MARRING FLOORS CAPS HELP TO PROTECT YOUR FLOORS.
We are constantly working to raise the bar on our products. If you have any questions or concerns about your experience, please let us know.