Description

This Body Vision Deluxe Inversion Table incorporates a new Patented Acupressure Beads Massage Lumbar Pad that adjusts along the back pad for lower, middle, upper, shoulder and neck muscle relaxation.  An adjustable 5 position head rest, in 1 inch increments, allows for accurate head and neck positioning for users 5'1" to 6'5".  Unlike other inversion tables made out of plastic, this model incorporates comfortable structured foam, and a durable cover to ensure ultimate comfort. Sturdy elevated 4 Point Pod Style Frame ensures stability even on an unlevel floor. Be on your way to a better back with the Body Vision ABM 2370/ ABMI 2.3 Inversion Table.
Built-In and Removable Patented Acupressure Beads Lumbar Pad

Adjustable Head Rest

New Patented Ankle Security System includes a pull pin ankle lock device, Rear Foam Rollers, Front Ankle Cups, and Ankle Security Straps for added Safety

Relieves Back Pressure and Muscle Aches

Elongates the Spine

Reverses Negative Effects of Gravity

Increases Blood Circulation

Promotes Stretching

Improves Posture

Folds for Easy and Convenient Storage

250 Lb. Weight Capacity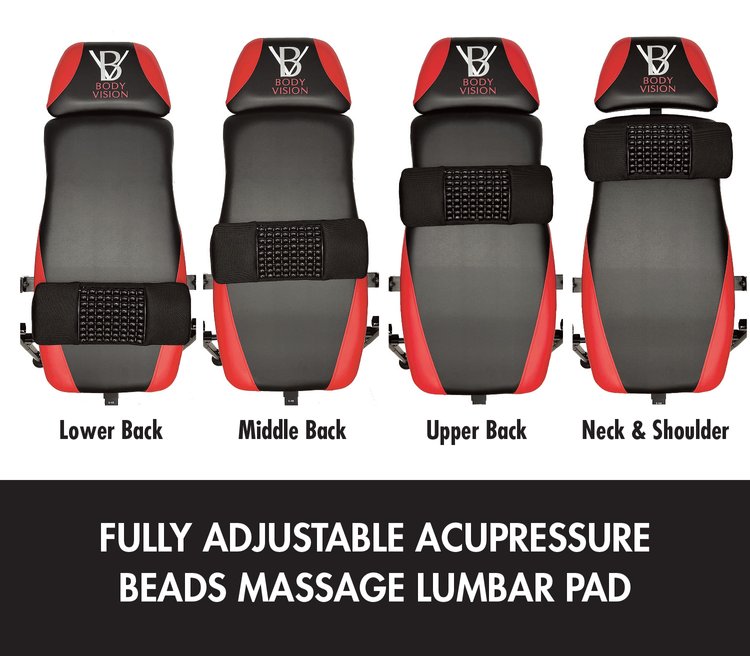 This Inversion Table is tested through Underwriters Laboratories ( UL) and is registered with the FDA as a Class 1 Medical Device.
Always Check with your Physician before starting any Inversion Therapy and review all Safety Warnings listed in the Owner's Manual before each use.